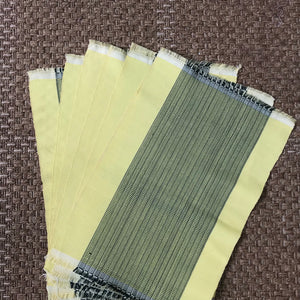 Abel weaving is one of the few surviving traditional crafts in the Ilocos region. This "inabel" product was handloom woven following an intricate process; from preparing the yarn, arranging them to produce the desired design, and operating the wooden handloom with the synchronized movement of both hands and feet.
13 INCHES X 18 INCHES
SET OF 6
POLY COTTON BLEND
HANDLOOM WOVEN 
Your purchase of this product, will help revive the weaving industry in the region and preserve a heritage we are proud of.
CARE INSTRUSTION:
Hand wash or machine wash in gentle cycle using lukewarm water and a laundry net.
Do not put in a dryer.
Do not bleach.
Do not wring or hang to dry.